Scientific goals
The Desbrest Institute of Epidemiology and Public Health (IDESP) aims to understand the development and evolution of chronic diseases which affect more than 30% of the population and which absorb 80% of healthcare costs. To do this, theINSERM–University of Montpellierhave jointly created a Research Unit to use a new approach that takes into account the environment in the broad sense and care trajectories through multimodal and exposomic markers (clinical, biological, behavioral, psychological, social , environmental) and relying on the power of mathematics dedicated to big data. Its purpose is to design optimized care and prevention routes for relevant patient targets. Allergic and respiratory diseases, diabetes, obesity, kidney and vascular diseases, inflammatory rheumatism and cancers are the source of the first models.
The team
The multidisciplinary research unit is headed by Pascal Demoly (Professor at the University of Montpellier, Coordinator of the University Hospital Department of Pulmonology and Addictology of the University Hospital of Montpellier) and Isabella Annesi-Maesano (INSERM Research Director) and co-director Nicolas Molinari (Professor at the University of Montpellier and hospital practitioner in biostatistics at the Montpellier University Hospital) and Grégory Ninot (Professor at the University of Montpellier and researcher at the Montpellier Cancer Institute). It is made up of 83 members, 29 of whom are authorized to supervise research. It welcomes researchers and practitioners from INSERM, INRIA, the University of Montpellier, the Montpellier University Hospital, the Nîmes University Hospital, the Montpellier Cancer Institute and the University Department of General Medicine of Montpellier.
Ressources
The IDESP research Unit operates the health data warehouses of patients suffering from chronic disease at the Montpellier University Hospital, Nîmes University Hospital and the Montpellier Cancer Institute, and national and European environmental databases. It generates new specific databases. It collaborates with the Alexander Grothendieck Institute of Mathematics (IMAG) and the MESO @ LR supercomputer. The unit fits naturally into the environment of the Occitanie Region, the Montpellier Méditerranée Metropolis and the University of Montpellier MUSE program of excellence. It has international collaborations by hosting, for example, the WHO Collaborating Center for scientific support for classifications or the CEPS University Platform.
Impacts
Beyond publications, expertise and other scientific productions, the team will train doctoral students from several doctoral schools, ED 168 Chemical and Biological Sciences for Health (CBS2) and ED 166 Information Structures Systems (I2S ). It will also stimulate innovations in the early detection of chronic diseases, in the intelligent delivery of solutions combining treatments and non-drug interventions and in the adjustment of practices. Digital tools will play a predominant role there, as will city-hospital collaborations, the involvement of general practitioners and the collaboration of care and prevention networks.
Localisation
The multidisciplinary research unit is located on the health campus of the University of Montpellier, Occitanie tram stop, behind the new faculty of medicine.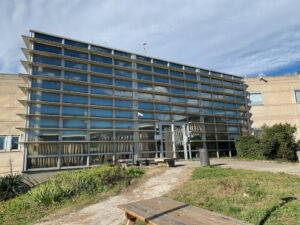 UMR INSERM UA11 Institut Desbrest d'Epidemiologie et de Santé Publique (IDESP)
Campus Sante, IURC
641 Avenue du Doyen Gaston Giraud
34093 Montpellier France
Tel : 04 11 75 98 41
Courriel